Clan Na Gael GAA club is based in the Eastern suburbs of Sydney Australia. The club has 150 members comprising 3 teams: men's, ladies' football and camogie. Formed in late 1991 and after a hectic pre-season training schedule, played the first official fixture against Penrith Gaels at The Central Coast Tournament in March 1992.
The brainchild of Mayo's Aidan (Gadget) Conrecode and Carlow's Bernard Mullins, Clan came into existence in an effort to prove to the powers that be, that an Eastern Suburbs Club with an Eastern Suburbs training base, could be run successfully. Initially the GAA Committee were against the formation of an Eastern Suburbs based club, but eventually relented and so at a vote at the January 1992 AGM, Clan Na Gael officially came into existence.
Clan's original colours were white and green but due to a colour clash with both Rovers and Penrith Gaels, Clan were forced to change. The present-day colours, maroon and white were chosen simply because they didn't clash with any other club colours.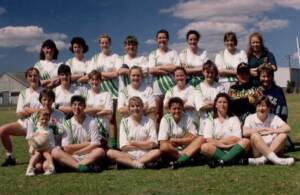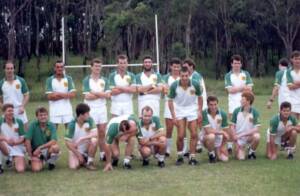 In the clubs first year of competition Clan had a men's and a ladies football team. In 1993 Clan took over the struggling Gaels Hurling team and so had three teams competing in the GAA competition. Clan ran the hurling team until early 1997, until they went out on their own and established The Sydney Shamrocks. In 2007, the ladies brought the small ball back to the club forming a camogie team
From 1992-1997 Clan trained in Moore Park, in front of the Sydney Football stadium. Due to the construction in early 1998 of the Eastern Distributor, the Moore Park facility was closed and at very short notice, Clan secured Waverley Oval as their training ground, where they remain to the present day.
Clan's early years were marked with a yearly presentation dance, regularly attracting up to 200 people and accommodating at it's height in 1999, over 250 patrons. The dance that year was held at The Swiss Grand on Bondi Beach, with a very young Tadgh Kenelly presenting the awards.
In the early years, trips were made to compete in a compromise rule's fixture against Ganmain Grong Grong Matong from north of Wagga Wagga, a seven hour bus trip and a memorable weekend for all involved.
Success came quickly for the ladies football team, securing the Championship in 1993, followed by a clean sweep in 1995, and the famous three in a row championship team from 1999-2001. The men's team had to wait until 1998 before securing it's first silverware, the league title while it only took the Camogs three years, securing the NSW League in 2010 with a comprehensive victory over Central Coast.